Health Benefits of Coconut Oil for the Skin, Body, Face & Hair
Posted by D.B. Martin on 10/23/2010

Coconut is one of natures most miraculous fruits, and has an abundance of benefits and uses. For centuries, the coconut has been one of the main staples to the people of Fiji, the Pacific Islands, and throughout the Tropics. Whether absorb or digested
Cold Pressed Coconut Oil
, the unrefined fat removed from the coconut, is the key byproduct that Organic Fiji uses to unlock the Coconuts full potential.
Now it is no surprise that Coconut Oil is great for the skin. Fijians and Pacific Islanders have always had beautiful, smooth, healthy, and age defying skin even while being exposed to the relentless sun and their harsh salty sea air. Their secret is in their native island product, Coconut Oil! It has been used as a natural skincare treatment for centuries. Coconut oil is nature's most abundant source of Medium-Chain Triglycerides. When applied to your skin, your natural good bacteria convert these Medium-Chain Triglycerides into Antimicrobial Fatty Acids. Antimicrobial Fatty Acids prevent viral, fungal, and bacterial infections, including yeast! Antimicrobial Fatty Acids act like natures natural bodyguards for your skin. This is key! These protective qualities make Coconut oil an excellent fat to use in body soaps, and is why Cold Pressed Coconut Oil is the principal ingredient in Organic Fijis
Coconut Oil Soap
Cleanser for Face and Body! A perfect choice for sensitive, normal and, of course, dry skin!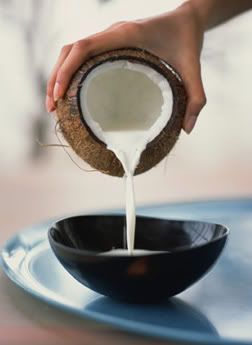 Why is Coconut oil such a superior moisturizer?
It all comes down to the small molecular structure of coconut oil. Its undersized structure promotes easy absorption through the skins pores and follicles. Coconut Oils deep moisturizing properties rapidly hydrate, condition, and shield the skin from moisture loss. Especially compared with the over processed low-grade fats used in most leading skincare products. This is why our Cold Pressed Coconut Oil is such a superior moisturizer, and is a great treatment to relieve dry, rough, and wrinkled skin. It is also an optimal natural treatment in treating of skin conditions like Eczema and Psoriasis! Organic Fijis
Coconut Oil Lotions
for Face and Body is made only with Certified Organic Virgin Coconut Oil, and is formulated to promote healthier hydrated skin! But better moisturizing is not the only reason to use Coconut Oil as your primary skincare treatment!
Why does Coconut Oil make you look and feel younger?
Not only is Coconut oil vitamin enriched in vitamins A, B, C, and E, and nourishes your skin, coconut oil is a natural anti-oxidant that helps the skin repair itself. Coconut Oils protective anti-oxidant qualities protect the skin from free radicals and other environmental aging factors. Free radicals break down the connective tissues in your skin causing your skin to harden and lose its natural elasticity and strength. All the signs we see in aged skin! Conventional skin products are not made with anti-oxidant loaded fats like coconut oil. Instead, they often use highly refined vegetable oils, which may have had all their good anti-oxidants removed from over processing. These highly refined vegetable oils are actually prone to free-radical generation! If you apply a product that uses highly refined vegetable oil instead of anti-oxidant loaded oil like Cold Pressed Coconut Oil, you may actually be causing you skin to age faster! This is why you should always be careful about what skincare products, lotions and lip balms you use.
http://www.organicfiji.com/blog.asp?id=3&action=post&draft=1